CTKArchLive 0.6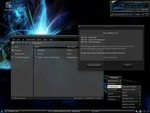 News :
- Technical
You can put add-ons on the CD itself !

A base iso image will be available to assemble your own system, in a Slax alike way.
An on-line iso assembler is planned, to do your shopping among the available add-ons (that you can also easily create yourself ; contribute them ! ☺)
Linux kernel 2.6.35.8
Complete KMS support for intel/radeon/nvidia, Nouveau driver with 3D acceleration 3D on nVidia GeForce cards.
The live is copiable to RAM at boot and when booted, along with the add-ons the home's partition personal folder, to remove the media and continue using the computer.
HAL deleted : faster boot ! (use of udisks, upower... to manage the same functions with Udev)
Updates should work much better than with the v0.5 : initscripts, pcmanfm, fbpanel, nouveau, etc… now come from the arch repositories.
By default, repositories are frozen to the release date of the live, to allow installing new software without necessarily updating the system.
To get back to the rolling release system, you'll just need to comment out the ARM line in mirrorlist.
Installer rewritten. BTRFS support at installation.
- Environment
Full English/French translation !
Various keyboard maps available at boot.
Added a sound manager for the tray.
The default font becomes DejaVu Sans Condensed.
Problems with web browsers' widgets and the dark theme solved.
Thanks to Fabien Rendu (aka Coolgeek) for the lightweight GTK intro dialog.
Added packages : sylpheed, jumanji, gsimplecal, obkey, transset…
Downloads
The 0.6 live :
Needed files for PXE boot :
ctkarch-0.6-i686-pxe.tar.bz2
The sources :